Biopharmaceuticals giant Gilead has agreed a strategic collaboration with microbiome biomarker and therapeutics specialist Second Genome for work on clinical biomarkers and drug discovery in IBD.
Gilead's move into the microbiome space comes at a time when interest in how the microbiome can impact the efficacy of existing drugs, and aid the discovery of new therapeutic targets is growing rapidly. The surging interest has seen a raft of licencing deals and join-ventures in the space, along with a number of top executives from big pharma joining microbiome biotech start-ups.
The four-year collaboration – with an option to extend by a further two years –  is set to identify biomarkers associated with clinical response in up to five of Gilead's pipeline compounds in inflammation, fibrosis and other diseases, and to identify potential new targets and drug candidates for the treatment of inflammatory bowel disease (IBD).
Gilead will have the option to worldwide rights for up to five programs for all diseases as well as exclusive rights to all biomarkers developed under the collaboration.
"There is a growing body of evidence that the microbiome plays an important role in disease progression and treatment response in inflammatory diseases," commented William Lee, PhD, Executive Vice President of Research at Gilead Sciences.
"We look forward to working with Second Genome to investigate the microbiome's role in inflammatory disease and particularly IBD, where patients can face significant challenges in achieving long-term remission with conventional therapies."
Deal structure
Second Genome will receive an upfront payment of $38 million in addition to success-based milestone payments of up to $300 million based on preclinical, clinical, regulatory and commercial milestones for each of its five target discovery programmes – a combined total of up to $1.5 billion in milestone payments.
In addition, it will receive success-based milestones for each validated biomarker delivered under the agreement and low double-digit royalties for any approved products.
Under the agreement Second Genome's proprietary Microbiome Analytics Platform™ will be used to identify novel biomarkers associated with clinical responses to Gilead's investigational medicines.
The platform will also be used in combination with other discovery and development tools to identify new targets and drug candidates relevant to IBD, including the identification of up to five novel IBD targets or drug candidates over the next four years, with an option to extend the collaboration for an additional two years.
"We believe the microbiome holds insight into patient heterogeneity as well as response to specific therapies," said Karim Dabbagh, PhD, CEO of Second Genome. "These differences enable the identification of important biomarkers to enhance precision medicine for better patient segmentation as well as potential combination therapies."
The work will also use the latest insights in microbiome science to help inform patient stratification and optimize potential treatments for patients in the future, said the companies.
"The Second Genome platform seeks to redefine diseases through the lens of the microbiome, utilizing this incredible resource to identify potential biomarkers and therapeutics," added Dabbagh.
"We are excited to be collaborating with Gilead using these approaches in IBD for new biomarkers as well as target and drug candidate discovery, driving toward improved clinical outcomes for patients."
Second Genome Pipeline
US-based Second Genome identifies biomarkers, biological pathways, targets and potential therapeutics by combining next-generation sequencing analyses, high-throughput assays for mapping out the microbiome, and taking an integrated informatics approach to drug development.
The company's development pipeline includes therapies for IBD and Immuno-Oncology – including its SG-2-0776 IBD target.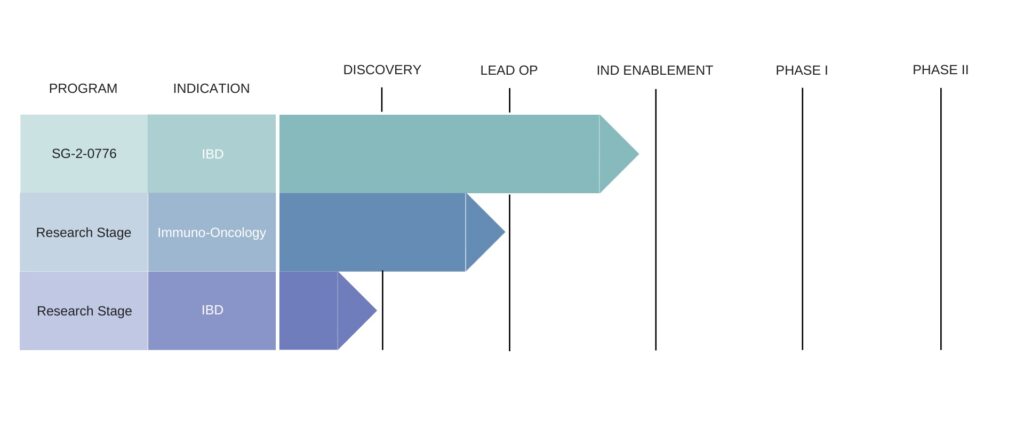 SG-2-0776 is a novel therapeutic protein derived from the microbiome that promotes mucosal healing of damaged epithelial surfaces. It is currently in pre-clinical and IND-enabling studies, with plans to initiate clinical development in 2021.
In cancer immunotherapy the company noted that both murine and human data suggest the microbiome may play a role in enhancing clinical responses to immune checkpoint inhibitor (ICI) therapy in addition to offering novel therapeutic avenues.
Through its Microbiome Discovery Platform, Second Genome has identified several candidate molecules from the microbiome of ICI responder patients which is says show robust in vitro and in vivo activity in relevant assays and disease models.
"We have leveraged our discovery engine to yield a portfolio of candidates that is able to specifically target either T-cells, dendritic cells, or macrophages. We are currently further characterizing, prioritizing, and optimizing these candidate lead molecules for IND-enabling studies," the company stated.
Other major deals in the microbiome therapeutics and drug discovery space include:
AstraZeneca's tie-up with microbiome specialist Seres for cancer immunotherapies (2019)
Pfizers's microbiome-mining research collaboration with Adapsyn (2018)
Johnson & Johnson's joint-venture for microbiome thereapies with Vedanta Biosciences (2015)
Bristol-Mysers Squibb's deals with Sirenas (2018) and Enterome (2016)
Nestlé's joint-venture with Enterome (2017)
A $534 million deal between Genentech and Microbiotica to investigate IBD targets (2018)
Takeda's deals with both NuBiyota (2017) and Enterome (2018)