Proge Farm, which has been combining study, research and innovation in the field of medicines containing live microorganisms or Live Biotherapeutic Products since 1992, has obtained marketing authorisation from the health authorities of the first group of EU states for the topical vaginal drug in soft and hard capsules containing the Lactobacillus plantarum P 17630, made at its Novara plant.
The approval obtained, which recognises Lactobacillus plantarum P 17630's restorative properties and its ability to prevent vaginal infections, will be extended to other countries in order to distribute the product internationally, allowing an increasing number of women to benefit from the probiotic strain's therapeutic activity.
This is a truly remarkable result, considering that vaginal infections are a widespread problem in the female population: vulvarvaginal candida, for example, affects about 75% of women of child-bearing age, 50% of whom suffer from recurring infection. Feminine intimate health defence mechanisms include the vaginal microflora which, in healthy women of childbearing age, is dominated by Lactobacilli which, when balanced, protect the mucous membrane from colonisation by potential fungi and pathogens. It is precisely with this in mind that Proge Farm created this product.
Commenting on the positive outcome, Giancarla Dondi, CEO of Proge Farm, says: "Proge Farm is the first Italian company to obtain this type of authorisation. We are proud of this important result, particularly because it has been achieved following the difficult period of the pandemic. Despite the problems, we succeeded in steering straight towards our goal. Now new challenges await us and I am certain that we will be able to face them as always by working together and doing our very best".
An enterprise of local excellence backed by solid technical-scientific expertise and constant dissemination of the characteristics of its probiotic strains, Proge Farm is one of the few companies in the sector to boast a complete and integrated, 100% Italian vertical supply chain, which begins with the selection and isolation of lactobacilli and ends with the marketing of the finished product. Every Proge Farm branded probiotic strain selected by the company and deposited in international strain libraries supported by clinical studies and covered by patent is produced in its Novara plant, one of the few lactic acid bacteria production sites in the world to hold GMP authorisation, with increasingly innovative and efficient processes capable of ensuring maximum finished product quality.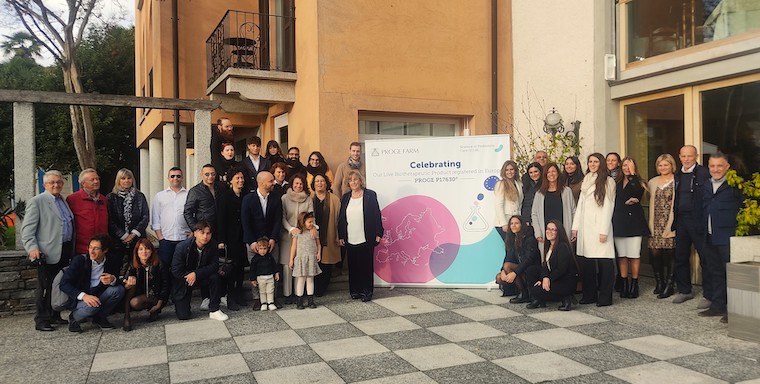 The result achieved by Proge Farm stems from the constant interaction with its spin-off Proge Medica, a consultancy company specialised in Regulatory Affairs and Pharmacovigilance which has been tackling the challenges of the regulatory world with its highly qualified staff for over 20 years.
PROGE FARM is an Italian pharmaceuticals company established in 1992, specialised in the research and innovation of medicinal products containing live microorganisms or Live Biotherapeutic Products, with its own probiotic bacteria research laboratory within the Novara Technological Hub. The company has been directly producing its own bacterial strains since 2010, thanks to its GMP production facility. Proge Farm boasts scientific partnerships with Università del Piemonte Orientale, Università Cattolica del Sacro Cuore di Piacenza and the Italian National Research Council (CNR).
Proge Farm is part of MicrobiomeHUB community