Global biosciences player Chr Hansen says the acquisition of HSO Health Care will allow it to deliver faster and bigger innovations in the women's health market.
The deal – for an undisclosed sum – is in line with Chr Hansen's strategy of pursuing bolt‐on acquisitions that fit into its own microbial platforms, as outlined the company's well-established Nature's no. 1 strategy.
HSO Healthcare holds patents for a combination of four specific bacterial strains that have been clinically documented for women's health. The combination, known as Astarte™, is sold via multiple B2B and B2C channels – with branded Astarte products available in multiple countries, and licencing deals in place with multiple other leading brands including iHealth's Culturelle brand and Jarrow's Jarro Dophilus Probiotics Women range.
Chr. Hansen said HSO is a 'good fit' to its business and will provide easy integration and 'strong potential synergies' with its own probiotic portfolio.
"I am excited that we have reached an agreement with HSO Health Care, which has demonstrated very fast growth through a globally recognized portfolio that complements our own UREX™ products nicely," commented Mauricio Graber, CEO of Chr. Hansen.
Women's health: A fast-growing market
Women's health is one of the fastest growing probiotic segments, with an estimated annual growth (CAGR) of more than 15% since 2015. According to the company, HSO has 'substantially' outperformed the market in this respect. Indeed, HSO has projected 2020 revenues of approximately €15 million – with an EBITDA margin above 40% and strong double-digit organic growth expected from 2020 to 2025.
Data from Lumina Intelligence, shows that interest in probiotics for women's health is growing particularly fast in China and the USA, while in Europe the top three countries seeing growth are Spain, the UK, and France.
Across 25 countries women's health is the third largest category in terms of online engagement, behind 'digestion' and 'immunity'.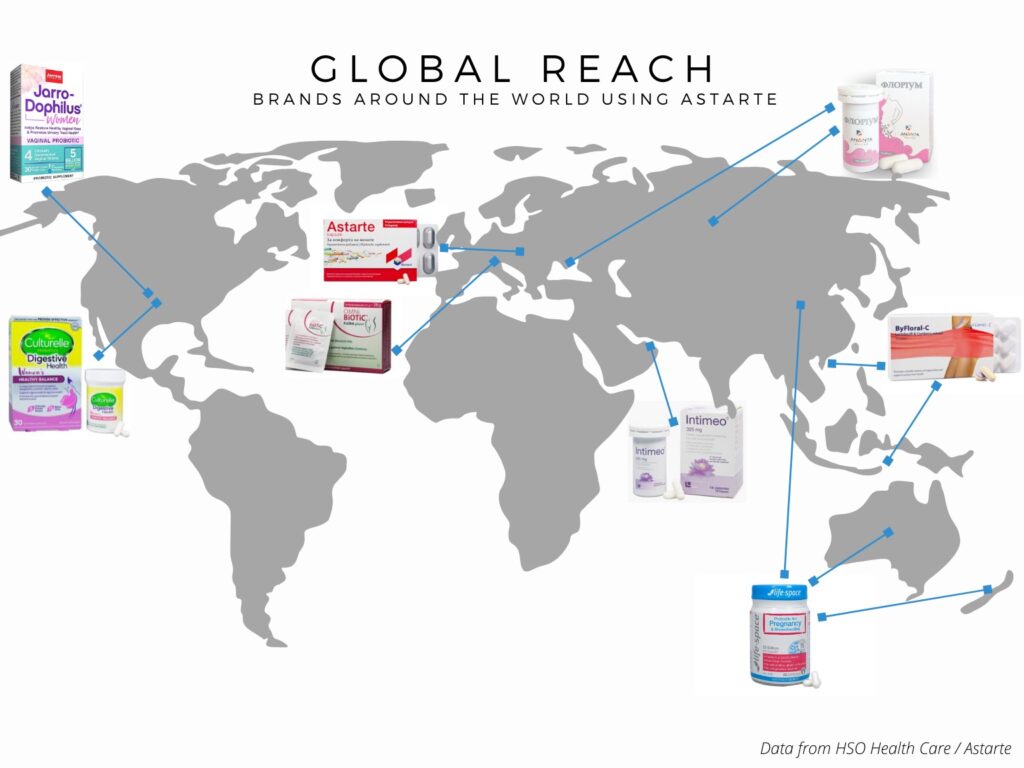 Ewa Hudson, Director of Insights at Lumina told Microbiome Post that the acquisition will 'certainly' strengthen Chr. Hansen's position given that the company is already a leading holder of proprietary strains that play in the women's health market – including its UREX™ products.
Synergy and innovation
Indeed, Chr Hansen noted that the deal will strengthen its women's health offering by combining Astarte with its own UREX products. The firm believes that the combined portfolio can be 'leveraged globally' and 'expanded into new adjacencies' within women's health.
"Women's health is a high‐growth segment where innovation is becoming increasingly important, and with the addition of the Astarte portfolio we will be able to deliver innovation to a much larger market more quickly," said Graber.
Helmut Essl, CEO of HSO Health Care GmbH added that 'since our inception' the company has always worked from a mindset to create scientifically documented natural products
"We are delighted that with the addition of the Astarte products to Chr. Hansen, we can make an even greater impact on a global scale," he added. "I am very excited that Chr. Hansen will now bring Astarte to the next level."
Sign up for free Industry Newsletter